Mosquito Control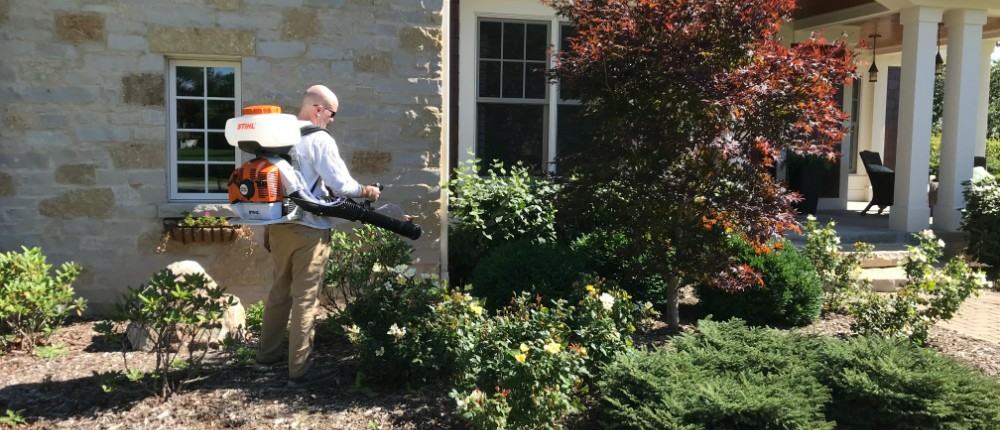 Nothing says it's summer like the dull whine of the dreaded mosquito, waiting to show up uninvited on an arm or leg and make its presence known with a stab at your skin. Mosquitos are the classic outdoor annoyance and unfortunately, they are among the most ubiquitous and pervasive of outdoor pests. They can also be quite a challenge to manage. Mosquitoes are not only a nuisance; they can spread dangerous diseases such as West Nile Virus, Yellow Fever, and Zika Virus, among others. They thrive in many environments and are present in nearly every climate zone.
Unfortunately, our climate and environment here in southeastern Wisconsin does nothing to help the situation. Our wet springs provide a hospitable environment in which mosquitos can thrive. Fortunately, we at Terra Firma are well-equipped for tackling this challenge, and we employ only the most effective tools to manage these whiney pests. We take mosquito control seriously, and we offer a range of preventive and control measures, most notably our mosquito spray service, to minimize your contact with them on your property
Effective Mosquito Control
While it is logistically impossible to shield your entire property from every mosquito, there are steps we can take to ensure that your property remains as safe and comfortable as possible year-round. We take mosquito abatement into account from the very start of the landscape design process. For example, we can work with you to ensure that all areas of your outside property receive adequate drainage. This is essential because mosquitoes utilize pools of standing water to breed. Eliminating standing water on your property goes a long way in minimizing mosquito infestation.
Professional Mosquito Spraying
Preventative measures, however, are not always enough. That's why we also offer extremely competitively priced mosquito spray control. Proper timing and application of mosquito spray is necessary to ensure that this method of control is effective and safe, and Terra-Firma Landscape is committed to ensuring that our mosquito team is knowledgeable and competent in providing this service.
As our tried-and-true methods have long enjoyed great success, we're confident you'll be thoroughly satisfied with our mosquito management. In fact, if you are planning a gathering outside on your property, we strongly recommend that you consider our mosquito abatement spray control prior to your event. Our treatment is effective immediately, and our expertise in the realm of mosquito control will ensure that you and your guests will be able to enjoy the outdoors and minimize exposure to the annoyance and risk mosquitos pose. We simply ask for a minimum of a week's notice so our trained and experienced team can prepare and make sure those uninvited guests don't dampen the fun.
Contact Terra Firma for Mosquito Solutions
Ensuring that your property remains as mosquito-free as possible goes a long way in maximizing the comfort of you, your family, and your guests. We want you to be able to enjoy your outdoor space without being bothered by those pesky bites. After all, you and your guests surely will want fond memories of time spent with each other, not with the mosquitos!  We'll do the hard work managing your pest control so you can focus on having a great time. Contact us today to learn more or book mosquito spraying or control services.